Internationell adventskalender
2011/11/30
För ett tag sedan så blev jag tillfrågad om jag ville bidra med ett recept till en internationell adventskalender och självklart svarade jag JA! Om ni klickar på min lucka (bilden ovan) så kommer ni till julkalendern direkt och kan se även de andras bidrag. Mitt bidrag, lucka 3,  blev den goda Saffranskransen med vaniljfyllning som jag anser visar en bra bild på vad vi gillar här i Sverige till jul.  Här kommer receptet i engelsk tappning:
Saffron Cake with Vanilla
I found this recipe in the advertisement leaflet of a Swedish grocery chain and thought that it looked tasty.  They call it a saffron cake but I prefer saffron butter cake as that is exactly what it is. I testbaked it for first advent and everyone who tried it found it amazingly tasty. It was so nice and soft. Let the machine work the dough for at least 5 minutes and you get to enjoy a lovely cake. If you do it by hand you should work the dough for at least 10 minutes. It will be well worth it. To all you weightwatchers: The whole cake costs 80 propoints, divide it with the number of pieces.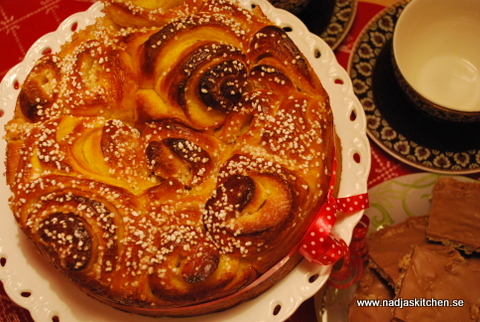 This is what you need for one cake (10-12 pieces):
Cake: 50 g butter, 1 bag of saffron (0,5 g), 2 dl medium-fat milk, 15 g fresh yeast for sweet doughs, 1/2 dl kvarg (curd) 1 %, 1/2 dl granulated sugar, 1 dash of salt, 5-6 dl wheat flour
Filling: 75 g butter, 1/2 dl granulated sugar, 2 teaspoons vanilla sugar
Garnish: 1 small egg, pearlsugar (3 tablespoons for you weightwatchers)
Prepare like this:
Melt the butter. Crush the saffron in a mortar or tuck on the bag. Stir the saffron down into the melted butter. Add the milk and heat to approx. 37 degrees. Crumble the yeast into a dough bowl. Pour the milk mix on top of the yeast and stir so that it dissolves. Add kvarg (curd), sugar and salt and then stir. Work almost all of the wheat flour down and then work the dough for about 5 minutes by machine or 10 minutes by hand. Don't cheat with this, I promise that it will be worthwhile. Cover up with a baking cloth and let it grow for about 30-45 minutes (to twice the original size).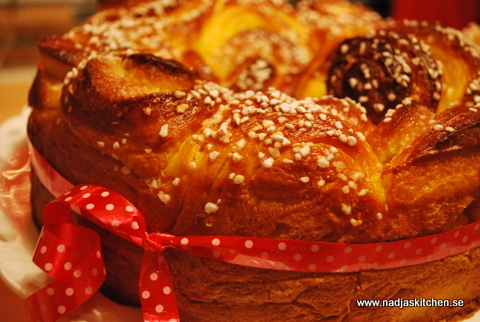 Stir the edible fat, sugar, and vanilla sugar smoothly to the filling. Put a baking paper at the bottom of ovenware approximately 24 cm with a removable bottom. Put the dough on a floured baking table. Knead it through with any flour you might have left. Tuck into a cake approximately 25 x 50 cm. Spread the filling on top of it. Roll the dough together and cut about 4 cm wide pieces. Put them in the ovenware with the cutside facing up. Cover with a baking cloth and let it grow for approx. another 40 minutes. Heat the oven to 200 degrees. When it has grown enough, paint it with a stirred egg and put pearlsugar over the whole cake. Bake in the lower part of the oven for about 20-25 minutes. Let the cake cool off covered by a baking cloth.
Enjoy!